Do you believe that you can help heal the world by becoming more healthy? I do!
Your happiness is a light. When you shine & share your light, you show others a path to happiness. A world full of happy people would be a bright, peaceful place.
Let me help you heal your body, elevate your spirit & increase your light. The world is waiting for you to illuminate the way.
I am Carla Golden, LMT here to serve you through massage therapy, therapeutic essential oils, food coaching with a spiritual slant & America's #1 holistic healthcare directory featuring 72 different therapies.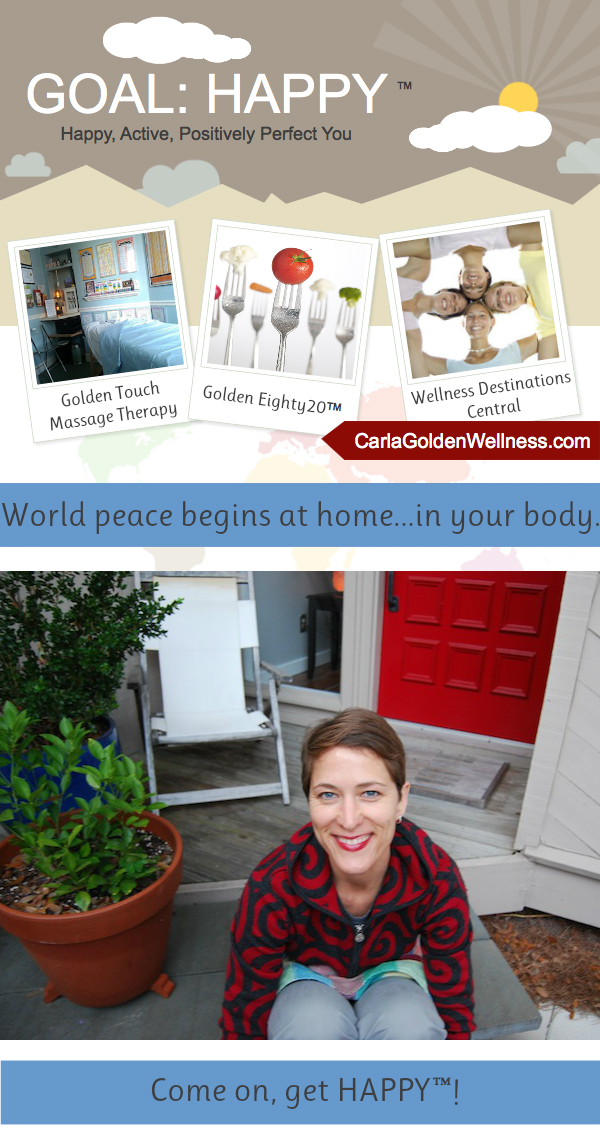 "When I am around you, Carla, I feel what you are……brave, honest, funny, intelligent, creative, inspiring, and just so leaning into life and what it means to be human. You show it, you say it, you breathe it, you eat it, you live it." Finlee P.
"Carla is absolutely authentic & totally real. She lives, eats and breathes the life she talks & advocates. Dedicated to everything she cares about – friends, family, business, the environment, good food – Carla finds the time to put her passion into everything. Carla radiates health & happiness from the inside out. You cannot help but to be infected by it!" Leighanne K.
See all those blue blocks below? Pick one! Go! Explore! Seeya there!
(Hint: ABOUT YOU is a GREAT place to start! Click it!)